Many urbanites believe wilderness is boring place to visit. Trust me it is not! A few months ago, I was guiding a friend of mine on where to go for jungle safaris, what are things he should look for and take care of while planning and booking safaris. One of the points that came up in discussion was, "what else can a person do in a jungle other than doing jungle safari to see a wild animal." This blog is based on the discussions I had with my friend. I told him you can do a number of things in the jungle. So let us look at the various things that you can do in the jungle.
#1 Jungle safari
Generally topmost and priority for all of us is spending time inside the jungle. This is possible only by doing jungle safari. This can be done in the form of regular jungle safari in gypsy. This safari is conducted in open-top 4 wheel drive gypsy with a seating capacity of 6 guests. The gypsy operators are strictly locals and private vehicles are not allowed at all. Another option to gypsy safari is canter safari. It is like an open-top minibus with a seating capacity of 28-35 guests. These safaris are called sunrise/morning safari and sunset/evening safari. Each safari lasts for a duration of 4 hours. Generally speaking, morning safari starts with sunrise and evening safari ends before sunset. The actual timings are based on season and local weather. These timings are set by forest department officials and have to be adhered to in letter and spirit.
Full-day safaris and half-day safari is another option in many parks. This option is for people who have an insatiable love for being in the wild and have disposable money to splurge. The idea in these safaris is to spend more time inside the park. In these adventures, you can enter the park 15mins before regular safari guests and exit 15mins after regular guests. The biggest advantage of these safaris is that you can easily switch from one zone to other. However, the price you pay is almost 10-12 times more than that of regular safari. The number of people permitted per gypsy is also less. It means that per person cost turns out to be very high. This is used by professional cinemaphotographers who are mostly on sponsored shoots.
Few parks give you an option of night safari. These safaris are for a short duration of 2 hours. It is an adventure in itself and must be experienced. The jungle changes its attitude in the night. In fact, I strongly believe jungle becomes highly active at night. Many creatures of dark like Civet cat which is highly nocturnal can be seen only at night. The dark cover of the night has always given me goosebumps and experiences to remember. Check out my other blogs for this experience. Night safari option is not a recommended for photographers.
Select parks like Tadoba provides the facility of Boat safari to guests. These are huge water bodies along the edge of forests. If you are lucky you can get some of the most amazing wildlife shots from the boat. Birds plenty it is a heavenly experience to shoot birds from the boat.
Jungle walks/Walking safari is another thrilling experience. Another favourite option of mine. Walking in jungles without any weapons or defence gears except basic five human senses is a life changer. I have a firm belief that it is in these kinds of walks that we realize how fragile and weak we are. At the same time, it is in these walks that our five sense really develop. The senses that we have forgotten to use to its full capacity due to the comfort of city life. Always do these with local tribal community and you would learn lot more about wild.
#2 Watching birds
Bird watching can be done in the resort or during any formats of safari. Birding is one of the most skilful acts that you can dare to do in parks. I have extremely high regards for hardcore bird watchers. It is because these guys have the ability to notice bird from distance either by sight/sound and then undertake the identification task to extent of gauging whether it is male or female. Salute! If you are going for bird watching, recommend taking an expert along. Hire local if possible.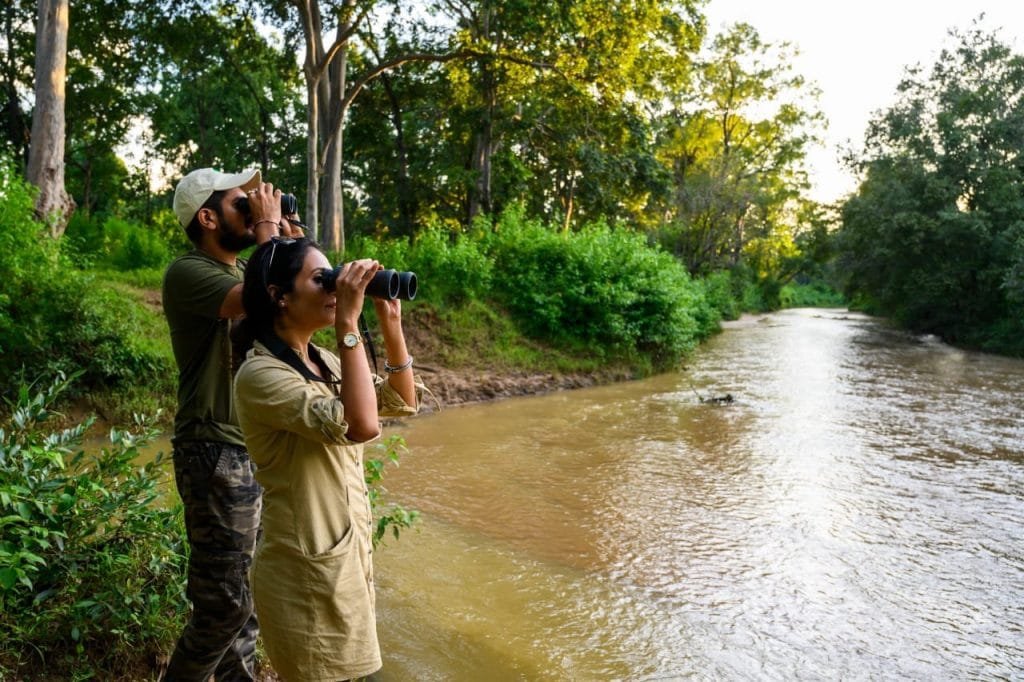 #3 Camping
Camping is not allowed in protected areas. However certain parks allow camping outside reserves in notified areas. Considering our exposure to wild animals, it is a unique experience to stay in camps. You feel and you are vulnerable thanks to the wild animals who surround you.
#4 Village Walk
A village walk is a relaxing activity but an eye-opener for most of the city dwellers. When you see the lifestyle the rural folks you will feel what a luxurious life we city dwellers live in. The lifestyle we have is what many local folks can only dream off. They have a very different set of challenges. The day to day sustenance and livelihood is everyday struggle. Nevertheless, their humility will make you have a relook at our points of pride. These people live life on the edge of the forest and are affected the most by anything that happens to the jungle or its inhabitants. They are the real protectors of the forest. Spend lunch/dinner time with the locals during the walk. Have a cup of tea, listen to their stories, try to learn their language, connect to them, learn some skills like pottery or making local jewellery, I promise you will never regret the experience.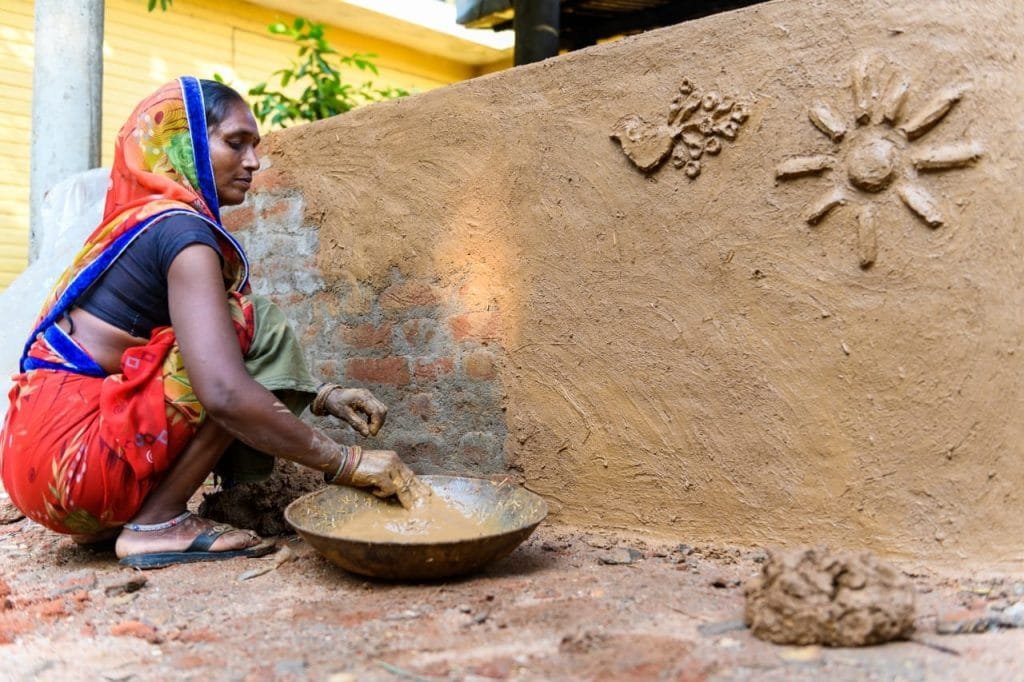 #5 Visit places of local interest – Museums/Forts
Visit local museum/Nature interpretation centre/places of interest around. It will help you connect with local culture easily. Most parks have such places. Spend time here. It is here that you will learn about local species and you might also see local specimens from the past. One of the best places to start before you begin your jungle adventures. So you know what to expect.
#6 Shopping
Shopping for local goods is an act of kindness. Most of the parks will have souvenir shops at the entrance gates. These are mostly run by locals. They offer safari related gear, tee, hats, key chains etc. Some will offer local produce. Try food at local dhabha's for local cuisines. Eat and Shop here even if you don't want to. It helps the local economy. If you are stingy I would still insist, please buy the cheapest product on the store. After all, they are protecting jungles for us.
#7 Work with NGO
Support NGOs. Several NGO work closely with forest department and locals. The NGO work towards the upliftment of locals. To do this, they also offer services to park visitors like walking with tribals, village walks etc. By means of paid participation in these programs, you end up supporting the locals. If you have any special skills please get connected with NGOs and support the development of a skill set of locals.
#8 Cycle around
Cycling. Many resorts will have a basic cycle. Just pick one and start riding around. Not recommended when dark blankets of the night are spread out. Also, make sure you are not riding in restricted areas. Never ride alone. Cycling in these humanless roads is unusual experience.
#9 Sky gazing
Night skywatch – This is a class act. If you have ever wondered what those stars mean, If you have been curious about the sky and beyond, Jungles are the place to be. Away from the pollution of light and air, jungles are ideal places for stargazing or night skywatch. Many astrophotographers also land up in jungles for the same purpose thanks to the remoteness.
#10 Become the farmer
Agrotourism is another big thing happening around the forests. Agrotourism incorporates everything from traditional livestock management to crop management. One of the easiest ways to participate in a local farming activity is to stay at a resort which has its own in house farms. You will surely learn some basics of farming and learn to appreciate the effort involved.
#11 Let hosts give you the experience
A lot of things are done by resort in order to give a unique experience to guest. Activities like candlelight dinner in the bush, campfire and tribal dance, lessons on local cuisines can all be done at property itself.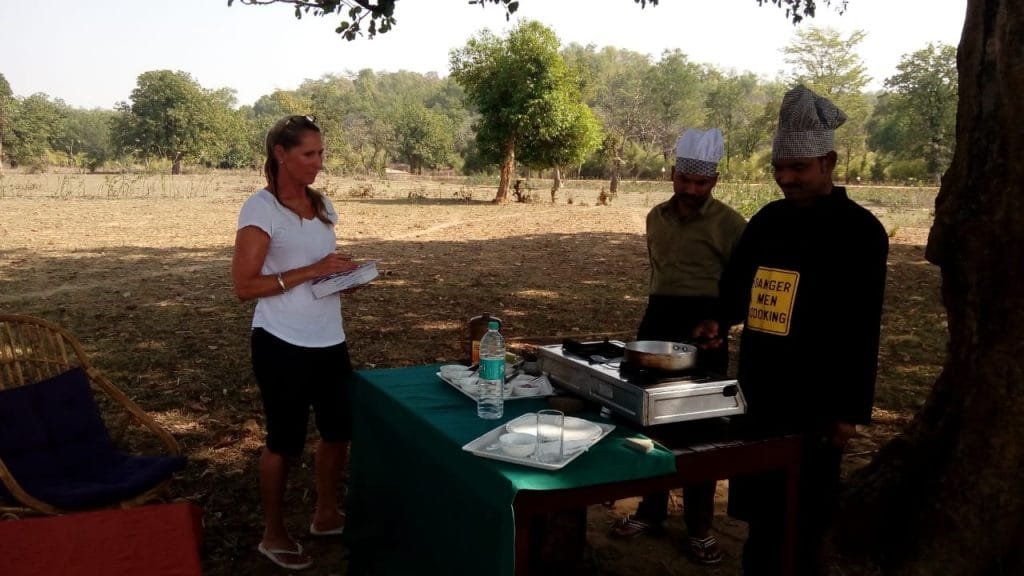 Another option at the resort itself is rejuvenation by means of yoga and massages. Many luxury resorts provide Spa and lifestyle services at the resort. The rejuvenation that you will feel after a Spa in the jungle is very different than that of the city. No wonder so many wellness resorts are located in isolated corners in the lap of mother nature.
Doing nothing- Laze in the lap of nature. Chill at resort. Go for bush breakfast. This is my last recommendation on the list yet the best options when you want a break. Take a break. Come to the jungle and do nothing. No phones (because you won't have a network), nor reminders no alarms no rush for appointments. This is the best break for us urban citizens.
In my honest opinion, coming to the jungle is an experience in itself. Whether you go for jungle safari or just relax at your resort, the experience of spending time with mother earth will be surely a memorable experience. In current light of situations when jungles open up, your presence at the nature reserves will be a big contribution to the economy of locals. Wildlife tourism provides employment opportunity to locals. Right from becoming a forest guard, worker or guide to starting own resort or provide transport service to guests, the economy is self-sustained. And if you indulge in fee-based activities like shopping, village walks and jungle safaris conducted by NGOs/Resorts your contribution to eco-tourism will only further improve the lifestyle of the locals.
According to a study, the presence of one tourist is enough to give employment to 11 locals. This is how economy sustains in jungles due to eco-tourism. In many parks of MP, out of the total money you spend on permits for safaris, one-third amount is used for the development of tribal villages. As long as eco-tourism exists, the role of villagers as protectors of our natural wild heritage is assured. So next time you go to reserve forest, try completing as many activities as possible to support an ecosystem that helps the wildspirits to be truly wild & free!