If I was to ask you, What is ideal place for celebrating anniversary … The most probable answer would be visit to a happening city, beach,hill station or at extreme would be religious place to seek blessings. It was slightly different for me. I celebrated my first anniversary on a Tree house inside tiger reserve.
Bandhavgarh Tiger reserve was on my dream list since childhood. Thanks to National Geographic channel that aired episode on famous tigers like Charger, Laxmi and B2. This reserve is known as Tiger Capital of India. Located in state of Madhya Pradesh this is a place of historical importance. The word Bandhavgarh means Bandhav – Brother and garh – Fort, Brother's fort. In Ramayana there is reference to this fort. It is said it was gifted to Laxman by Lord Ram while on way to Lanka. Recent history also notes it as hunting grounds for royal families from kingdom of Rewa.
BTR has a thriving tiger population of around 80 adults and has one of the highest density of tigers. The reason for this high density is presence of large prey base, meadows and dense habitat of sal and bamboo. Not to forget that this forest is well managed by forest department and developed for tourism. Depending on your budget you can choose from array of resort to stay. From Home stays to Taj Mahua Kothi, all major hotels operate here. But most of them have similar rhythm. However there are few unique properties. It was one of these unique properties that I chose for anniversary. It is called Tree House Hideaway managed by Pugdundee safaris. It is ideal priced for special occasions with wonderful team on site.
Reaching Bandhavgarh is a challenge from Mumbai. Nearest airport is Jabalpur and only one flight operates. The flight ticket prices are obnoxious for common man. The nearest railway station is Katni, minimum travel time of 16 hours by express train. So I had to rack my brains to balance amount I spend with time and experience. I charted indirect route.
A day before anniversary we travelled from Mumbai to Bhopal by flight and reached Bhopal in afternoon. We visited historic site of Bhojpur which is 1 hour drive from Bhopal city. It is temple dedicated to lord Shiva. This place is known for 22 feet Shivlinga. Temple architecture is mesmerising and Shivlinga is mind blowing and must see when in Bhopal.
After this we headed to Badi jheel spent our evening relaxing along the biggest lakes around. Me and my better half had sumptuous dinner while cool breeze kept us on high. The breeze had tinge of humidity and smell of soil freshly drenched in rain water, called as monsoons. Monsoon brings relief to everyone across subcontinent from scorching heat of summer sun. It ushers growth of vegetation, it is period of abundance and makes weather pleasant. So I call this smell, "Fragrance of hope"

My anniversary happens to be day before my birthday and it also marks the entry period of monsoon in central india. While we enjoyed our dinner along the jheel. I was anxious from within as I could see dark clouds gathering over jheel. Sky turned wonderful dark bluish black with edges of white formed by sun light. I started checking weather forecast. I knew if it rains my anniversary would be spoiled and chances of seeing tiger will go down drastically. I was praying to rain gods to hold on for few more days. Fragrance of Hope had now become my concern.
My prayers went down the drain. It started thundering and torrential rains started flooding pot holes on streets of Bhopal. We had reached Bhopal station and were awaiting our overnight train for Katni to arrive. The platform on railway station had metal roofs. Raindrops falling on metal made clattering sound which was not so pleasant. Continuous downpour after hot day got all insects rejuvenated. They were in masses on every illuminating surface on platform and inside waiting room. It was scary and nerve wrecking. My better half now got worried. While i was thinking about jungle & tigers, she suddenly asked, " What if tree house falls down?"
I had no answer. I could not tell her I wasn't even thinking about it. So concerned to find answer, I immediately called up resort to check conditions at Bandhavgarh. A young chap picked up phone and confirmed that it was humid but no signs of rain in Bandhavgarh and comforted me. This young guy was resort manager. He now happens to be good friend of mine, as we share same traits for love of nature and photography.
Finally our train arrived on time and we reached Katni next day at 5:30am It was the anniversary day. Bandhavgarh is 2 hours drive from Katni. On the way we stopped to freshen up and had our breakfast. We reached Tree-house by 10am. The resort manager was at gate to welcome us along with his team.
We walked from gate to reception area. While I completed formalities, welcome drink was served in reception area and manager briefed us about the safari plan. He also is enthusiastic photographer. He gave me few tips on capturing moments in wild. It is in Bandhavgarh that I developed passion for photographing wild life. I used to go to jungle regularly since childhood but never photographed. Things were now set to change forever.
Coming back to anniversary day. At resort we were given choice to select room as all 5 tree houses were vacant. We selected house on Tendu tree. Its an amazing place. All wood. Bedroom had scenic view of jungle. Bathroom had half glass walls giving an feel of having bath in jungle. Rooms were well furnished with wood and glass. It was plush feeling.
After checking in, we prepared ourself for exciting day ahead. Post lunch we started our first safari in Tala zone. We decided to start with visit to temple of Sheshaiya. It is unique idol of lord Vishnu in sleeping posture crowned by 5 faced serpent. Hence the name. I had seen this temple many a times on national geographic. They always showcased tigers moving around here. It was fun to be here. On our way to this temple we had seen jackal running behind herd of spotted deer's to make kill. It was sighting which was fun to watch. After seeking blessing of lord Vishnu we started our safari and few minutes later we were blessed with sighting of late Rajbhera female. One of the biggest female tigress I have ever seen. She was my first tiger of Bandhavgarh. I was awestruck by her looks and could not stop admiring beauty of this enigmatic creation of god. The safari ended on high note with sighting of two bears.
In evening I had planned a bush dinner. It basically means having candle light dinner in the darkness of jungle. Table was decorated with local flowers, silverware and bottle of wine. No loud music, no bright light. Only sounds of crickets and other insects accompanied by distant howls of jackals. Lighting was bare minimum with lanterns. I distinctly remember it was new moon, pitch dark all around. The lantern gave an amazing effect. After wonderful evening went back to our house with high hopes for next day. After all it was my birthday.
Day 2. It was time for our second safari. I told my wife that I saw dream. Dream was about a big male tiger coming on road just outside our resort. I wondered was it dream or result of my thoughts about Bamera? Bamera was dominant male of Tala zone. He had succeeded his father B2 who in turn had succeeded to Charger. Charger was made infamous by national geographic for his intolerance to tourist vehicles and repeated mock charges. Each one of these male tigers had taken throne from their father by defeating them. Possession of Tala zone is every male tigers dream. In his last days Bamera was thrown out by his own son- Mr X and troubled by other tigers like Mangu and old age was doing him no good. Mangu now dominates the zone. Mr X a male tiger reaching his prime, a caring father, is hanging around bidding his time to rule Tala. His fathera Bamera was surviving on cattle from villages. Day before we reached Bamera had killed cattle close to our resort. So was I expecting to see him?
Within few minutes after leaving resort a few kilometres before entrance gate of Magdhi zone, we did see huge male tiger. This male tiger was huge and battle scarred. Is this Bamera? I asked the guide. Guides response was very interesting. He told me that male we are seeing is one the biggest aggressive shy males of Bandhavgarh and goes by name Jobi. He is indeed the biggest male tiger I have ever seen. He wasn't happy seeing us close to him. He crossed the road in front of us from left to right and he kept walking parallel to our vehicle for at least 500m. When he saw another gypsy approaching he went into thickets and sat down for few mins waiting for tourists to leave. Tourist vehicles got piled up as they realised tiger was sitting few metres from main road. Finally fed up Jobi decided to retrace same track from where he came from before disappearing into jungle. I have never heard of him again nor seen his image.
After spending sometime with Jobi, we started our second safari started in Magadhi zone. The zone is picturesque. Pug-marks were everywhere but no tiger sighting till late morning. As safari drew to an end we saw two tiger cubs in meadows. It was out of my camera's reach. I could clearly see them from binoculars. It was fun watching them play carefree. We watched them till they disappeared into nullah. As our safari time got over we came back to resort. Resort team was eagerly waiting for us to hear what had happened and provide refreshments the moment we put our foot down from gypsy. I was surprised to see they had made cake made of milk and bread for me and was served along with decoration of wild flowers. It was most memorable birthday cake cutting celebration for me.
Day 2 evening we took break from safari. We did some cycling in resort followed by evening walk around jungle. We also spent some time at watering hole that is part of property sipping our evening cup of tea on machan adjoining the watering hole. Once we were back from our walk, movie on Bandhavgarh was screened in reception area of the resort. Also starters were offered and this followed by dinner. It was birthday well spent. Worth detailing !
Cycling

Watering hole with water lily

Machan across watering hole
Day 3 – I woke up feeling bit cold. Reason was not to my liking. It had rained heavily overnight. I knew my chances of sighting will go low. It did. My 3rd safari went blank. Not even one deer was sighted. Now I was left only with one safari in evening. I kept my fingers crossed.
Minutes into last safari we sighted a tigress sleeping under Bamboo thickets. Sounds of humans and vehicle could not disturb her sleep. She wouldn't budge. Occasional irritation caused to her by flies would make her switch her tail and ears. She did what tigers do best. Sleep in bamboo shade during hot sunny day. She kept rolling all the time. After sometime she woke up and started staring at our gypsy and looked around. I felt as if she was counting and ensuring all gypsy had come to see her. Finally she got up and came to man made watering hole, took holy dip for few mins before disappearing. This was highest point of my tiger experience at Bandhavgarh. We saw her good 40mins to 50mins. Her name was Jr. Kankati. Sad news is that my affair did not last long with her. She was poached in November 2017. I have put some moods of Jr kankati below.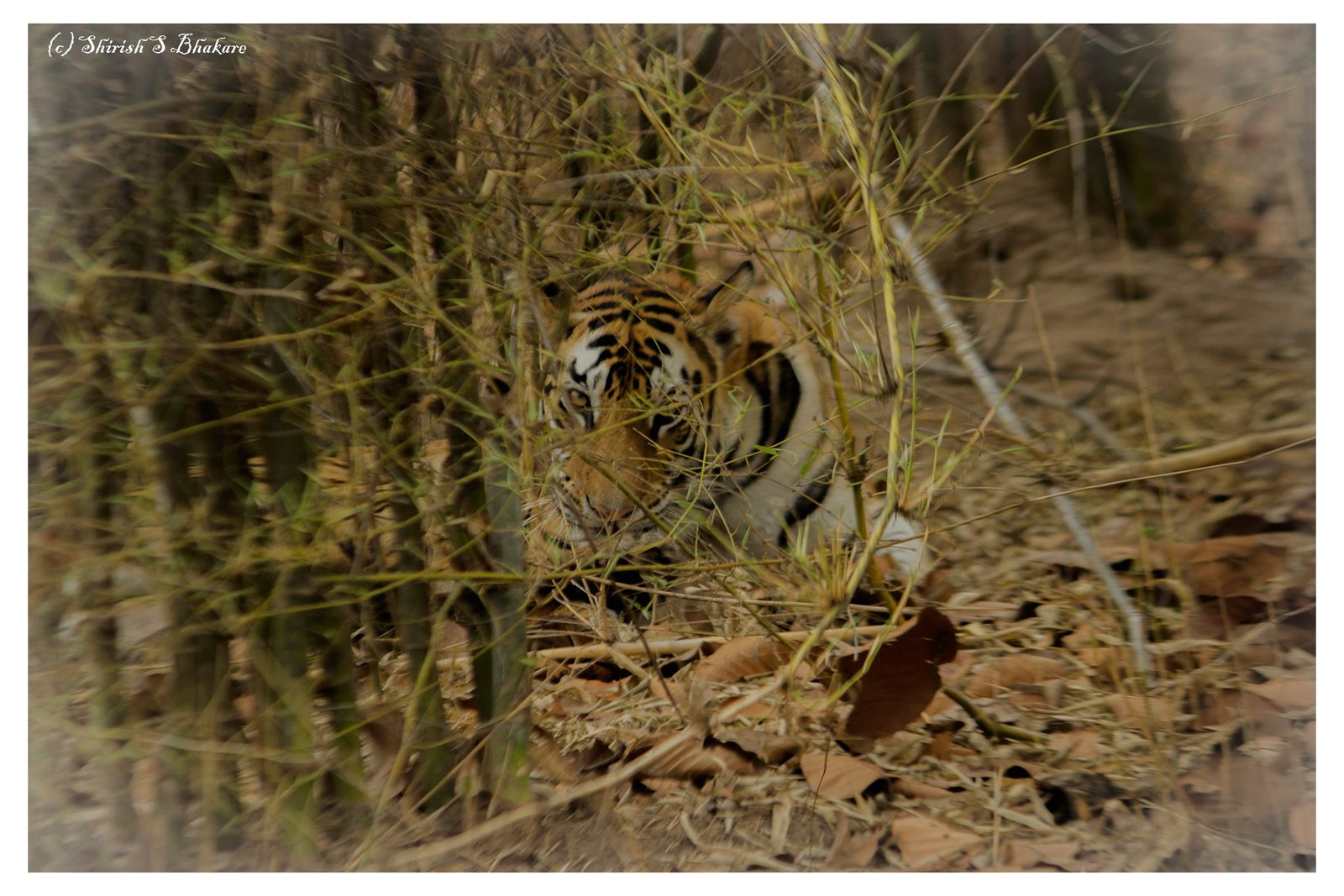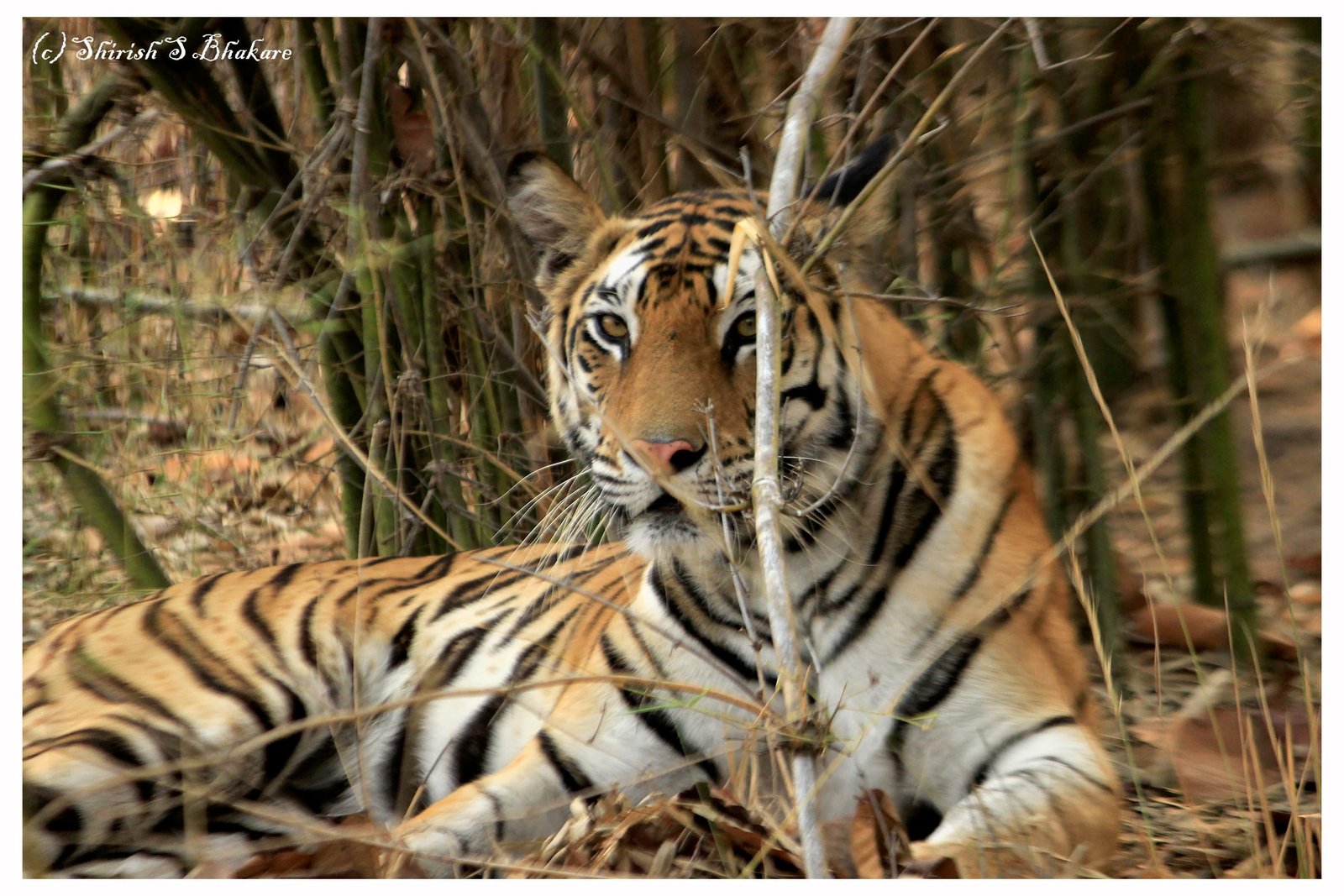 Next day post lunch I left Bandhavgarh with heavy heart and some of my best memories. My experience and so I speak for my better half, had been fun and filled with thrill. It was not just flora – fauna or tigers but also wonderful people who made it happen for us. I had gone to Bandhavgarh to celebrate year of togetherness with my better half but what I got in return was more than I had thought of. It was during those few days that I realised romance has many forms. Romance in wild is different experience. Experience every soul must go for. It was here that my romance with spirits of wild started. Romancing the wild is purest form of love for me. Things changed forever after this trip. It is this romantic journey I wish to carry forever and ever.